Skip to Content
Mountain Bike Oregon
June 20-23, 2024
Mountain Bike Oregon
June 20-23, 2024
Mountain Bike Oregon
June 20-23, 2024
Mountain Bike Oregon
June 20-23, 2024
Mountain Bike Oregon
June 20-23, 2024
Oregon's Annual Mountain Bike Camp
Get hyped for Mountain Bike Oregon, the all-inclusive three-day mountain biking festival featuring Oakridge's best singletrack.
Come ride in the mountain bike capital of the Pacific Northwest, one of six IMBA Gold Level trail centers sites.
MBO includes sweet singletrack, onsite camping, evenings in the Hydro Flask beverage garden, & opportunities to demo high end bikes.
Get ready to experience the most excellent mountain bike festival on the planet!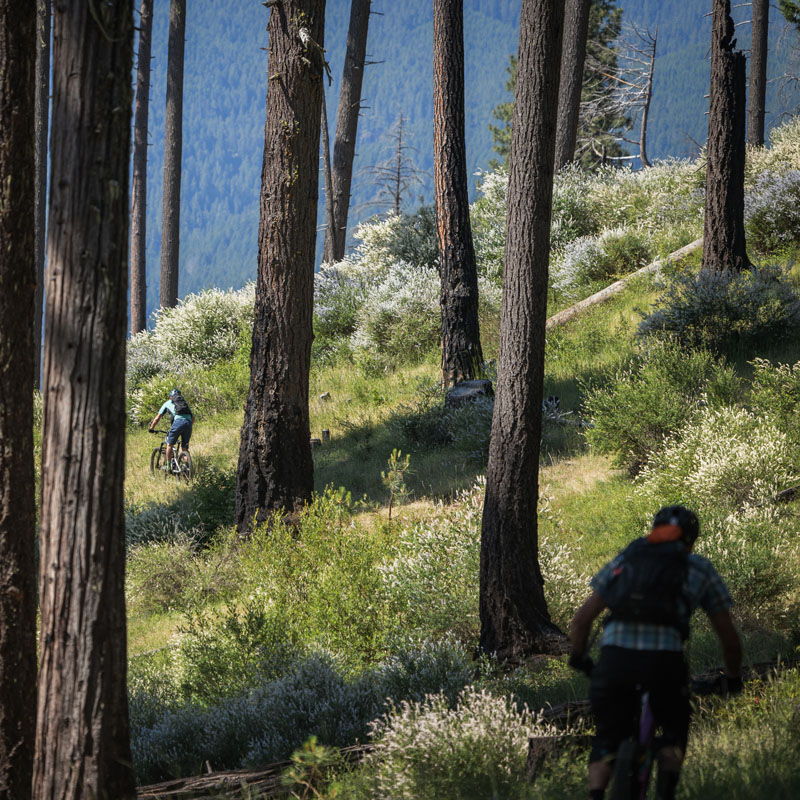 Mountain Bike Oregon Is a True Mountain Biker's Paradise
Be face to face with your favorite mountain bike brands – who hand you their top end bikes to ride for the day!
Ride a variety of Oakridge's singletrack, perfect for intermediate to advanced riders.
Participate in either the beginner or intermediate Ladies skill clinic, or have your kids participate in one of the two Junior clinics (including Coach Robbie's airbag camp) each day while you ride.
Chill at the swimming hole after your ride, camp in your tent, van, or RV – all on-site.
Enjoy live music, raffles, the mini-bike race, vendor expo, and a wide variety of beverages from Oregon's best beer, wine, cider & kombucha companies – all poured into your Hydro Flask mug that is yours to keep.
Breakfast burritos & a packed lunch are included, with food trucks on-site for dinner.
This event isn't just a bike festival – it's the most legendary weekend adventure you won't find anywhere else.
Oakridge, the Ultimate Mountain Bike Destination
Mountain Bike Oregon takes place just outside Oakridge and Westfir, located in the heart of the Cascade Mountains at the base of the famous Alpine Trail.
Only 50 minutes from Eugene, the greater Oakridge area is home to incredible natural landscapes and hundreds of miles of world-class singletrack that'll leave your mind blown and your legs weak.
48447 Westoak Rd
Westfir, OR 97492
Red Covered Bridge, aka "The Portal"
Just west of Oakridge off of Highway 58
Get Directions
48447 Westoak Rd, Westfir, OR 97492, USA

"Oakridge is a beautiful area. They've got a lot of really fun trails. It has beautiful mountains, beautiful trees… [beautiful] everything."
"I love Mountain Bike Oregon. It is one of the most well-organized mountain bike festivals on the west coast. I attend because I want to increase the awareness of the brand I represent, and Mountain Bike Oregon is one of the best places to captivate consumers."
The riding community around MBO is special. I loved being with the same "pod" and guides all weekend, I left the event with new friends that I can't wait to ride with again next year!
I appreciated how well MBO guides focused on the needs of the entire group, creating awesome camaraderie they passed on to the group. I was able to focus on riding new to me trails, without worrying which way to go. The best Mtn biking festival I have ever been to!
I have been coming to MBO for other 10 years now, it's three days of catching up with friends, riding my favorite technical trails, and lots of laughter. I look forward to this event all year long!
So many sweet memories from a great weekend. My favorite was finishing Alpine trail, riding directly into camp and having our guide handing out cups of beer and kombucha. Amazing!!!!
All the guides were great. Psyched about the riding, the guiding, safety. I enjoyed overhearing stories about past MBOs. Can't wait for next year!
The riding is always the most memorable. Amazing trails and guides!
I had a great time meeting new people, spending time with my kids, enjoying the camaraderie of the group (organizers, guides and riders). Ripping fun trails, too.
The event itself is greater and better than the rides. The NON-RIDE aspects surpass the wonderful rides including meeting new people and fine times in beer garden and river.
The guides were consistently great, helpful, knowledgeable, and supportive. There if you want them but also give you space to ride at your own pace.