Skip to Content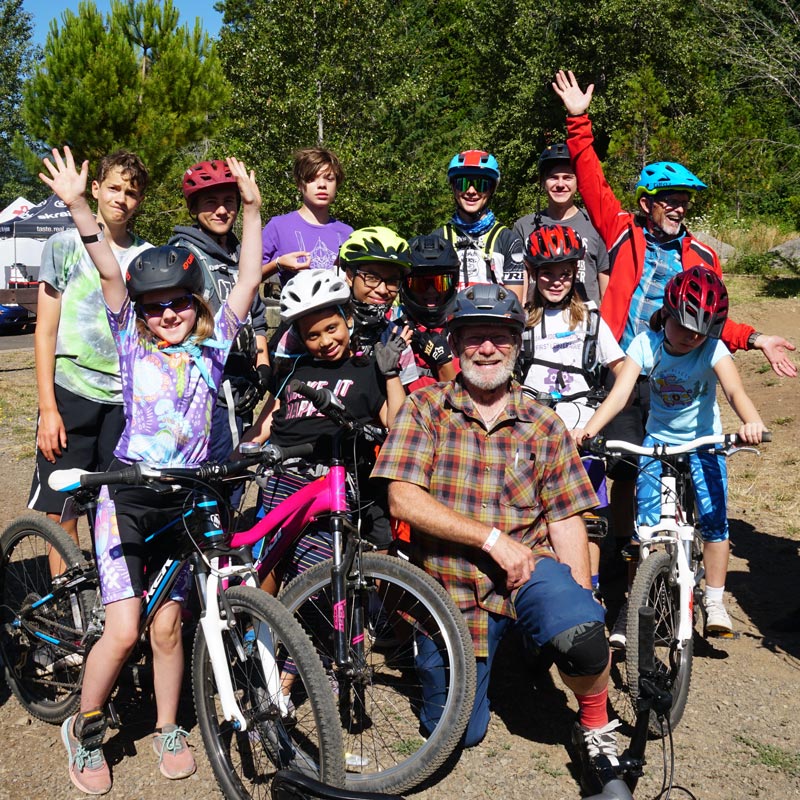 Junior Skills Clinic & Youth Camp at MBO
Your kids will be shredding, learning MTB skills and having fun!
Junior Camp is a great way for kids to participate in MBO while you are out riding, knowing your kids are having fun. Friday and Saturday focus on bike skills, having fun on a bike, and the afternoon art camp. Sunday celebrates a fun weekend with a guided singletrack ride. Throughout, our talented coaches instill how to safely travel trails while making mountain biking fun!!
Friday and Saturday
8:15 AM: Drop your kiddo off
We'll help the juniors grab their lunches, have breakfast together, play some bike games, and more.
We will have staff ready at 7:30 AM for parents who will be on early shuttles.
9:00 AM – 1:00 PM: Mountain bike instruction with games and drills.
Focus on fundamental bike skills, starting with essential basics, progressing to more advanced skills.
12:30 PM – 3 PM: Youth Camp with Activities (Open to all families registered at MBO for FREE, not just those doing the Junior Skills Clinic).
Parents are encouraged to join their kids when back from riding.
At Westfir Camp with a pump track, playground, and grassy area to play.
Activities include art/drawing stations, art projects, and materials.
Sunday: Guided Singletrack Ride
8:15 AM – 2:15 PM – Guided singletrack mountain bike ride! Your kiddo gets to shuttle just like you!
The morning will include breakfast time like Friday & Saturday mornings.
Details
Ages Served: 8-14 years, based on capability.
Parent(s) need to be registered participants of MBO as either full participants or non-riding participants.
We are open to working with younger-than-eight years, based on each child's riding and self-management capabilities.
All participants need to be self-regulated and be able to do basic self care.
Number of Juniors: Minimum Participants: 10, Maximum: 25
Instructor/Junior Ratio: 1 Instructor/5 Juniors including a crew of Jr Guides & Teachers.
Bike Skills Program Will Include:
Basic and Intermediate mountain biking skills, focusing on the progression of each skill.
Bike Safety and Equipment Use, Operation of Controls, Body Position, Trail Scanning, and Risk Management.
We teach in a safe, educational, supportive, and summer camp-like environment.
What to Bring:
Functioning bicycle (instructors will help inspect).
A fitting helmet, hydration pack or small backpack and cage mounted sports bottle, comfortable, yet safe riding apparel, and a positive attitude!
Lunch is included, but please include light day snacks in your child's day pack.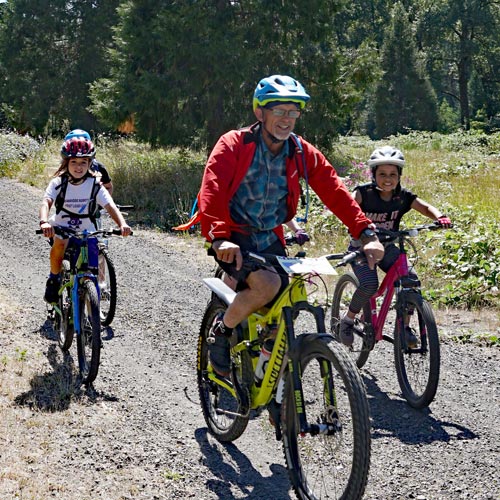 The Junior Clinic Package Also Includes:
Friday & Saturday afternoon shuttles.

These shuttles are for all MBO participants, will not have a teaching component, and are for intermediate to advanced level riders that can keep up w/ a group pace.
Kids will need to be with a parent and be comfortable with an adult pace.

80 acres to camp along the banks of the beautiful Willamette River. Primitive camping w/ no hook ups. Room for RV's, campers, Sprinter Vans, cars, and tents.
Hot breakfast & coffee each morning.
Bagged lunch each day.
FREE! Bike demos (Not youth sizes, but for those who can fit on adult size bikes).
ALL INCLUSIVE nightly adult beverage garden (after 8 pm is adults only) that serves kombucha.
Vendor area with many bike companies present showcasing their products.
Nightly fun and games, including the famous mini bike race & music.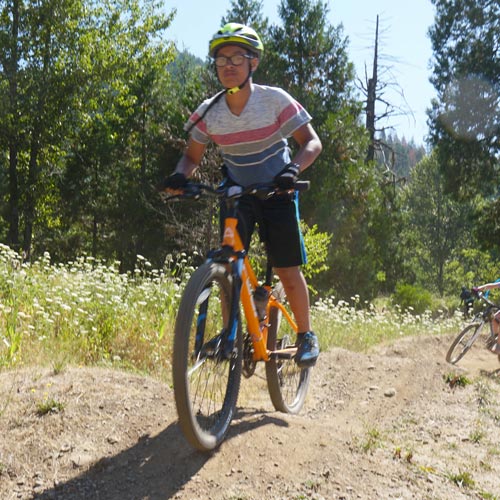 Our Safety, Intention, and Inclusion Details
The number one priority at Mountain Bike Oregon's Junior Program is the safety of all participants. The instructors at MBO are committed to providing fun instruction for all students based on skill level and physical strengths. Junior participants are asked to assess their own strengths and skillsets, and at times, challenge themselves. Instructors will always be available for assistance, but participants are responsible for their own personal needs.
Dennis Sibilia-Young is our Lead Instructor who has been an MBO guide for six years. He is a member of Disciples of Dirt, holding certificates from various agencies, including PMBIA, NICA, the Oregon Interscholastic League, the Willamette National Forest Permit Department, the Oregon Outfitter Guide Program, and Wilderness First Aid Training for Mountain Biking.
Frequently Asked Questions
Reserve Your Spot Now at Mountain Bike Oregon