Skip to Content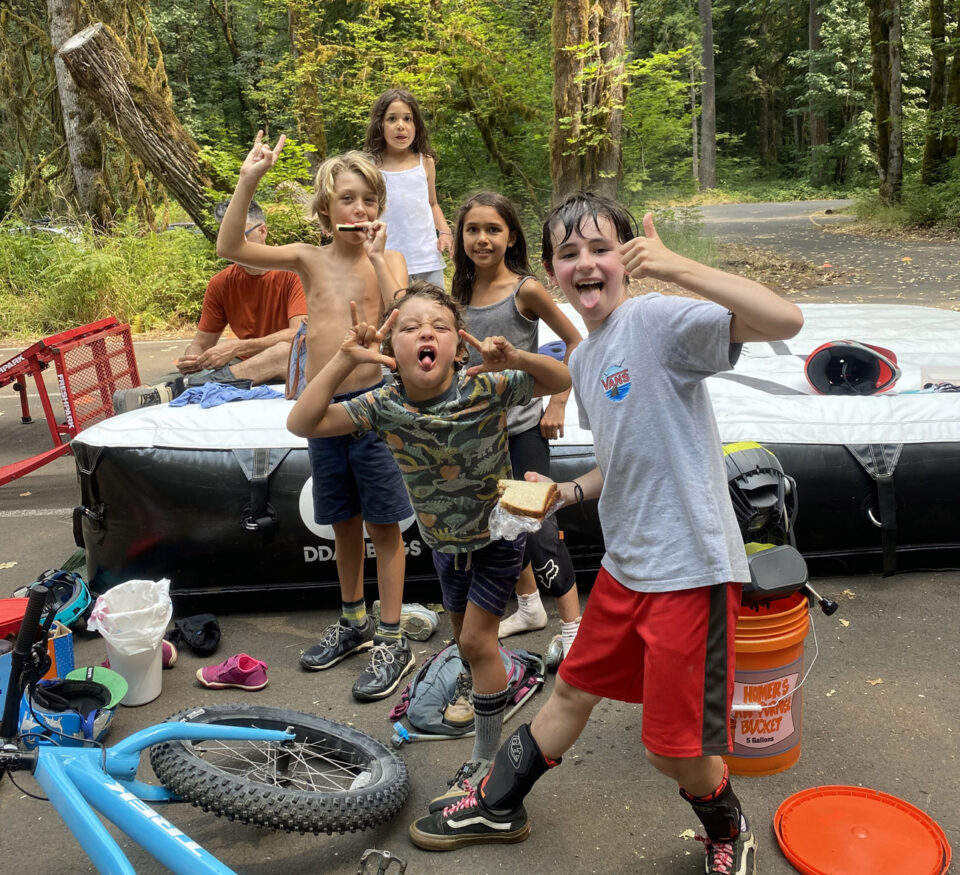 Coach Robbie's Skills Clinic & Youth Camp at MBO
Progress your jump & bike handling skills while having fun!
Coach Robbie will help your child progress in a safe and controlled setting. With 3 different-sized airbags and adjustable kicker ramps, riders will have a blast on their bike while their parents are doing their thing at MBO. With a variety of modular equipment, there will be games & challenges throughout the session, keeping the stoke factor high!
NOTE: The below clinic is for 5-9yr olds with a parent registered for MBO. 10-15yr olds are welcome in the MBO Junior Clinic.
Friday, Saturday, & Sunday
8:30 AM: Clinic Starts at the Airbags

We will have staff ready at 7:30 AM for parents who will be on early shuttles, can help with grabbing breakfast & lunches as needed.
Otherwise, at 8:30 AM we will welcome clinic kids and get them ready for a day of fun!
9:00 AM – 1:30 PM: Skills clinic with games and drills
Riders will have the option to work on their drop technique with adjustable drop platforms, passive & active pumping, cornering, and jumping.
With a 1:4 coach to rider ratio, each rider will receive a high level of attention and feedback.
With a variety of modular equipment, there will be games & challenges throughout the session, keeping the stoke factor high!
1:30 PM – 3:30 PM: Youth Camp with Activities (Open to all families registered at MBO for FREE, not just those doing this Skill Clinic).
Parents are encouraged to join their kids when back from riding.
At Westfir Camp with a pump track, playground, and grassy area to play.
Activities include art/drawing stations, art projects, and materials.
Details
Ages Served: 5-9 years
Available all 3 riding days of MBO, but can register separately for 1, 2, or 3 days.

How to register:

First, register each participant as an "Under 21" Non-Riding Ticket.
Second, go to Coach Robbie's website to register for this clinic.

Parent(s) need to be registered participants of MBO as either full participants or non-riding participants.
All participants need to be self-regulated and be able to do basic self-care.
Number of Juniors: Minimum Participants: 4, Maximum: 12
Instructor/Junior Ratio: 1 Instructor/4 Juniors.
Bike Skills Program Will Include:
Airbags, jumps, drop platforms, and pump track features – all under adult supervision.
Basic and Intermediate mountain biking skills, focusing on the progression of each skill.
Bike Safety and Equipment Use, Operation of Controls, Body Position, Trail Scanning, and Risk Management.
We teach in a safe, educational, supportive, and summer camp-like environment.
What to Bring:
Light day snacks in your child's day pack to compliment the MBO provided lunch
Bike Requirements:

Mountain bike equipped with disc brakes
Bikes with both front and rear hand-operated brakes
Bikes inspected by a bicycle mechanic before the camp

Other Equipment Requirements:

Backpack with 1 liter of water, snack, and jacket
Knee pads protection gear
MIPS rates, correctly fitted bicycle helmet
Close-toe shoes
Riding gloves and eye protection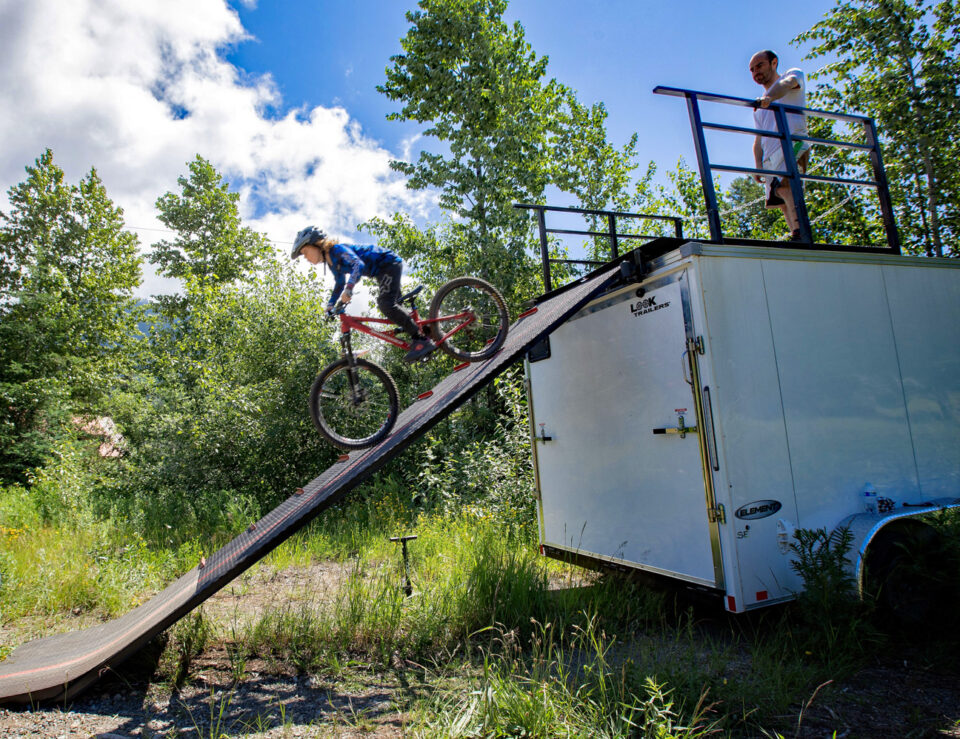 Coach Robbie's Clinic is Separate to MBO Festival:
There are two steps to register:
Registering for Coach Robbie's clinic here. This will register each clinic participant JUST for the clinic.
Purchase a Non-Rider Under 21 ticket for each Coach Robbie clinic participant to partake in the MBO festival and gain access to festival grounds.
About Coach Robbie:
Coach Robbie was formally trained under the tutelage of Simon Lawton, owner of the prestigious mountain bike instructional program FLUIDRIDE. Lawton has taught countless World Cup riders, Red Bull Athletes and coaches, and passed on his methodology to Robbie. Lawton's coaching, combined with Robbie's experience as an educator, helped shape Robbie into a powerfully effective mountain bike coach. Robbie has taught and trained Evergreen MTB Alliance staff and instructors as well as professional coaches and riders in the PNW.
With an entrepreneurial spirit and penchant for the inexperienced rider, Robbie created a children's specific program during his time with FLUIDRIDE. In response to Covid-19 he built and ran an outdoor school at Duthie Hill MTB Park in the Fall of 2020, supported by FLUIDRIDE.
Robbie teaches the distilled fundamentals of mountain bike riding, uniquely shaping his approach to relate to any student. Humans are bipedal and movement is the same for us all- but how we initiate and support movement on a bicycle is the basis of Robbie's instructional method. With an iron clad understanding of perfect form, coach Robbie addresses fear, self talk, and progression in a safe and controlled setting.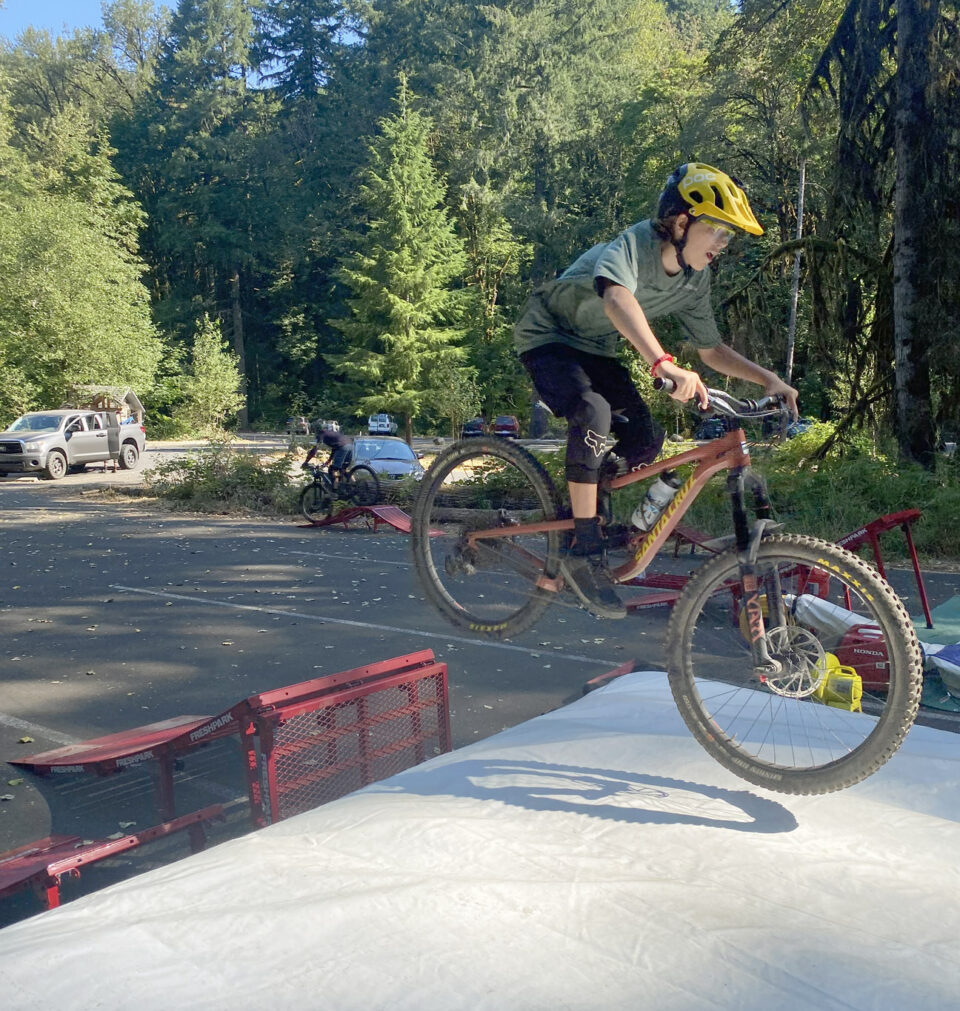 Our Safety and Intention Details
The number one priority at Coach Robbie's Airbag Clinic is the safety of all participants.
Coach Robbie's approach is student-centric, playing off of the rider's interests; engaging with them to create appropriate challenges and goals while having fun in a safe and supportive setting. Instructors will always be available for assistance, but participants are responsible for their own personal needs.
Reserve Your Spot Now at Mountain Bike Oregon